Posted on December 6, 2008, in Others, with 71 Comments
Results 2010:
———————————————————————-
Three-years-old psoriasis got cured
My name is Monica Soni, a resident of Sukheda
village, Ratlam district, Madhya Pradesh. I was suffering
from psoriasis disease for last two years. I was
under the treatment of three allopathic doctors in
Udaipur but got no relief as such. I came to Patanjali
Yogpeeth in May 2009. There I was under treatment of
Vaidya 'Sushant Mishra' for eight months. It completely
cured my psoriasis disease. I went for Panchakarma
four times which was also very beneficial.
There are misconceptions about psoriasis that it is
a hereditary disease, a sporadic disease and patients
never recover. I want to tell them that if they regularly
practice yoga, such as Kapalaati, anulom – vilom for at
least half -an-hour in the morning and evening along
with proper medicines then this disease will be cured
forever. When I consulted senior doctors and teachers
at Patanjali Yoga Yogpeeth they also said that this disease
is not hereditary. With proper lifestyle and systematic
food habit and Yoga – Pranayama while using
Ayurvedic medicines this disease can be completely
cured.
Yours
Monica Soni
Village – Sukheda, District – Ratlam
Madhya Pradesh -457,333
'Pranayama' off the incurable disease
Respected Swamiji,
My name is Indira, I am a non – resident
Indian staying in UK since 1981. In 1991, I was
diagonised with lung sarcoid (inflammation) which
consequently destroyed the lung tissues. I consulted
doctors and told them that I had breathing
problems. The doctors told me that the problem
was primarily due to cold and they prescribed paracetamol,
four times a day, and advised rest. Being
a working lady, I could not afford complete rest. In
1992, I suffered from pneumonia and terming it
simple flu the doctors prescribed me the same set
of medicines, which gave me temporary relief.
Five years later in 1997, on a number of occasions
it so happened that I would faint while working.
While consulting a doctor I was asked to narrate
my medical history and based on the narrative I
underwent a (lung tissue) biopsy. According to the
report, there was a bug which was eating up the
tissue and the surgeon told me that had I not consulted
him on time, things would have gone out of
hand and six months is the maximum that I would
have survived.
Neither my husband nor my son could
believe it. To begin with, the doctors gaves me
Pradniciline (4*4) and Paracetamol(2*4) but it did
not work. After continuing the same for two years,
though there was some relief but there was no
respite from inflammation, cough and weakness.
All along my husband and son were the most supportive.
It was in 2004 that my well-wishers sent a
copy of your DVD. With its assistance, I started
practicing Yog, slowly and steadily, things started
working out for me. Now I can walk at a quicker
pace, breathe easily and in fact work without
much of a problem. I am 52 now and very happy. I
along with my husband came to Patanjali Yog
Peeth, learnt Yog and a lot about ayurveda from
Acharya Bal Krishna ji Maharaj. The kind of services
that you are providing through Patanjali is
really praiseworthy and is indeed a great gift to
the mankind.
Regards,
Indira,
Mahendra UK
I was diagnosed as suffering from Lung Fibrosis in April 2009
I was diagnosed as suffering from Lung Fibrosis in April 2009. Since according to allopathy there is no cure, I was however asked to start with AZRON.  I consulted a local ayurvedic doctor who advised me to continue with AZRON alongwith his medicines. After 2 months I gave up AZRON because of ill effects. Then I saw Swami Ramdev on TV recommending Pranayam for cure. I contacted local Patanjali Sansthan doctor who prescribed ayurvedic medicines. From that day I started walking 2 kms followed by Kapal Bhati and anulom vilom every morning. and took medicines regularly. I am much better and comprehensive tests excluding Xray, were completely within normal limits in April 2010. I cannot say I am completely cured but I continue with Pranayam, though I have temporarily discontinued  some medicines due to extreme hot climate here in Jaipur. I am going to be 78, have prostrate problem (being controlled by homeopathy},and hiatus hernia. I am very happy following Swami Ramdev' pranayam I am very grateful to u. Thank u very very much
My weight has become normal, and I have gained a healthy look on my face:
Guru Ramji ko mera koti koti pranaam! After practicing pranayaam and some of the basic asanas, I have gained confidence, improved self esteem, got relief from frequent bouts of depression, almost stopped tobacco and alcohol use (I have developed a sense of shame in using these and am on the way to quitting). My weight has become normal, and I have gained a healthy look on my face. I feel great joy just listening to the Guru…His ideas and bold and positive views are really motivating. I wish the whole of India listened to Him..
Shoulder pain went away in 3 months:
i have been doing yoga about three months and have realized that the pain in my shoulder at night time has gone away and i feel good. i am contuining to do the yoga kapalbarti and Anulom vilom and it helps me to be happy,sometimes i feel depressed and it help me to be in good health.
YOG-PRANAYAM MADE LIFE EASY BY CURING DIABETES AND OBESITY.
Respeceted Swamiji Maharaj, Sadar Charan Sparsh.Swami ji! My name is Urmila Singla and I am 38 years old. I have
been suffering from diabetes from 10 years and I also take insulin shots till 26-28. I was on allopathy medication due to which my weight started increasing gradually. Infact my body became susceptible to other diseases.I suffered from paralysis. I could not sleep, I was always troubled because of headaches. I was living an aimless life. I lost confidence, their was no hope. Then I saw your programme on Aastha channel and then I decided to follow yog- pranayam to stay fit. Yog- pranayam made me feel good. Then I visited Patanjali
Yogpeth in Haridwara. There thru Panch karm I was treated which was beneficial. For curing obesity and diabetes I religiously followed Yogacharya Kapil Rupurker's special classes on Paranyam and yogasanas . The yog asanas I practise are kapalbhati, brahmari pranayam, agnisaar, manduk asan, shashank asan, kurmasan,wakrasan, Ardhmatsyendra and bhujangasan. I followed  all asanas and in 15 days I stopped taking insulin shots. I saw a ray of hope when my weight started reducing. I was amazed that within 6 months my body had started responding to yoga. My body no longer needed insulin and I stopped taking allopathy medicine. Regular yoga practise and proper diet helped me reduce weight . Swamiji its just because of your guidance that I am a healthy person today. I would suggest
people to include yoga in life.
"Karo Yog Raho Nirog". I am grateful to you swamiji.
Urmila Singla
House no. B 1/243
Indra Basti, Sunam
District-Sangrur (Punjab)
Phone : 01676-501501
YOGA HELPFUL IN CURING DEAFNESS
Respected Swami ji, Pranam ! I am B.D. Upreti. My age is 68 years and I am working with ONGC. Swamiji ! From past six – seven years my left ear was giving me trouble, I was hearing partially from my left ear. The ENT doctor did an audiograph on me on the 05.01.2001. According to which hearing aid was the only solution. Somehow I could not manage to buy the hearing aid and in between saw your programme on the Aastha channel. I started practising pranayam, sukshmvyayam and various asanas . It's been five years and I am a regularly practising yoga and the pranayams. I got my ears checked again on 10.09.2008 and to my surprise the doctor said both my years are perfectly alright and hearing aid is not  required at all. On learning that I practise yoga and pranayam the ENT doctor recommended me to continue it .
B.D.Upreti
398, Sharad Nagar Tarsali
Road,
Baroda-9 (Gujrat)- 390009
ASTHMA CURED THROUGH PRANAYAM
Respected Swamiji,
I am 38 years old. I am asthmatic since childhood. It troubled me a lot for 2 years. I saw your programme on T.V and started following yoga. In just four months I stopped using the inhaler. With your blessings now I am perfectly fine. Infact I have reduced ten kilos weight. I am grateful to you. I will set myself as an example and encourage people to do yoga and pranayam.
Thank you
Seema Thakural
Lecturer English
Jalalabad (Punjab)
Phone: 016385486
PRANAYAM BENEFICIAL IN WHITE SPOTS
Respected Swamiji, N.P. Yog Sandesh magazine is a splendid magazine and is read by many. Swamiji through pranayam and yoga
I have been able to get rid of 80% of the white spots. I have been suffering from it from past 35 years. After this miracle I received many
calls from different people from different countries. Swamiji I religiously followed yaga, pranayam and made modifications
in my diet which helped to get the results. You are the credit holder for all this.
Ashok Jain
Udaipur (Rajsthan)
Phone : 0294- 2803050
Source: YogSandesh Sep 2009
————————————————————————-
06/10/10 11:06 AMI have been doing Guru jee's Yoga since 2005 and only thing I can it is to be experienced by doing it and can not put down in words.If each one of follow the advise of Gurujee and by practising his yoga life is definitely going to take a different dimension with peace love and affection.One nees to experience it and Lets us make a commitment to at practice yoga for half an hour
05/12/10 07:15 PMYoga has helped me conrol diabetes,Anxiety,weight.I do half an hour of daily yoga everyday.I feel very energetic.I want to know how i can conrol facial hair growth for women by yoga.
04/25/10 09:56 AMGuru Ramji ko mera koti koti pranaam! After practicing pranayaam and some of the basic asanas, I have gained confidence, improved self esteem, got relief from frequent bouts of depression, almost stopped tobacco and alcohol use (I have developed a sense of shame in using these and am on the way to quitting). My weight has become normal, and I have gained a healthy look on my face. I feel great joy just listening to the Guru…His ideas and bold and positive views are really motivating. I wish the whole of India listened to Him..
03/28/10 06:02 AMHi,
I am krishnaprasad.my age is 31.I am doing anulom vilom pranayama for last 1 year as i diagnosed with high BP (170/90).I have a panic attack problem.In the night I will get a sudden jerk in sleep and my heart beat increases and breath will become light.I feel some thing is going on in my brain.first it starts as a fear in my brain.some squeesing effect.Then i wake up and it vanishes after some.but after that i couldn't sleep. But after doing pranayam the same thing was happening still and i get pain in the chest and in spinal cord.If i do pranayam i need support to sit as my back will start paining,And i get cold often.My stomach size increased.Pranayam didn't helped me well.Now i started to take homeopathic treatment and feel far better.
I have tried all pranayams.
03/19/10 05:12 AMThis is no gimmicks.
Ayurvedic life style can sure help deliver much better healthy, happy life.
Years ago I used to use a whole lot of over the counter medications.In last thirty years I am getting out of the medications.Now at 69 without much efforts I have been living healthy happy life.Light Pranayam , Yoga excercise and simple diet have delivered great successes to me.I stay away from doctors to keep healthy [ this is very simple and true; most medications are not compatible to human bodies.Now I am trying to avoid wheat products, fried, yeast products,yogurts,tomatooes[ khatta,sour products except kokam for khatash ]am vegetarian. One can sure live healthy,happy life by following simple life principles.
Thanks a million / do yourself a great favor / Read corrected.
03/15/10 03:40 AMI believe swami ramdevji is real hero in todays world only he has dat potential who can stand up against indian corruption…..
03/12/10 10:11 AMBaba Ramdaveji Parnam from Maryland USA I do asasns everyday for good health and keep my diet as you advised on your TV program. These asans help me in Allergy,constipation,joint pain.
(10) – 03/11/10 10:58 PMDo Pranayam regularly to get rid of Depression. Also think of the Country & do something for the upliftment of the poor.
Work as suggested & adviced by Swami Ramdev. We have to aware the village people as suggested by Swami Ramdev. As only by awaring the people of our country, we can get rid of these corrupt politicians.
Thanks.
Satpal Singh
03/07/10 10:27 PMBaba is thinking so much for our country prgress honestly,why shouldn't we
02/22/10 07:15 PMThe yoga is very useful for us. It give me new sense. I have heard very much.
02/18/10 10:16 PMI was diagnosed with Cervical Spondylitis which stopped me from going to work. Would feel drowsy after taking allopathic medicines/ painkillers. Fed up one fine day stopped the medicines completely and started doing pranayam and asanas specific for my problems along with 30 minutes walk daily. I was completely cured within 2 months and the problem hasn't come back even after I stopped doing yoga for almost 2 years after my second delivery. Thank you Baba Ramdev !
02/16/10 07:37 PMBaba Ramdevji,Pranam!! During winter time ,i am very scare because of breathing problem,this year we expirence too much cold but after doing anulom-vilom and kapal bhati, i am perfectally alright even though cold drinks not bothering me at all.ofcoures it also works for others physically as well as mentally illness,only we need to put faith in it.we have nothing to loose but gains a lot,no doubt about it. Thanks, C Z Patel
02/16/10 07:35 PMBaba Ramdevji,Pranam!! During winter time ,i am very scare because of breathing problem,this year we expirence too much cold but after doing anulom-vilom and kapal bhati, i am perfectally alright even though cold drinks not bothering me at all.ofcoures it also works for others physically as well as mentally illness,only we need to put faith in it.we have nothing to loose but gains a lot,no doubt about it. Thanks, C Z Patel
Comment (4) – 02/06/10 12:05 AMstop not pranayamam till your last breath.
I am free cronic synacities
01/30/10 02:06 AMI was diagonised for Diadetes on 19.10.09 with a count of 480.It had got me very worried.The reknowned docter advised me to take Insulin injections of 12 and 8 units respectively. I was always an admirer of Indian Yoga and ayurved.I gave a try by visiting one of the authorised Patanjali Medical shops. I was given free diagonises by the doctor and told to take Madhu nashini along with other medicines.I also bought some video C D's for guidance. I started with Pranayam too under the guidance of Shri.Dandekar an old disciple of Shri.Ramdevji. I maintained a disciplined approach to tackle this problem and within 30 days my tests for random check showed a count of 114. This was nothing less than a miracle.This is the strength of Yoga and Ayurved. The potential is abound.It is our ability to exploit it for the benefit of MANKIND.
12/29/09 12:21 PMI (in USA) was suffering from constipation, and acid reflux problem for last 2.5 years, taking laxatives and medicines for acidity. 3 months ago, I saw Swami Ramdevji's pranayam show on TV and bought DVD and started performing Kapal Bhati for 5 minutes, gradually increasing to 15 minutes(apprx. 1000 times), and my both problems (Constipation, & Acidity) have eased 80 to 90%). Like Swamiji said, Kapal Bhati is Sanjeevani. Thank you Swamiji for making Yog and Pranayam accessible to common people.
Pratap Nahata
12/27/09 10:31 AMsirf 3 pranayam 1. anulom vilom 2. bhastrika and 3. kapal bharti
gulab jal ka prayog,ushah pan,aur aavla churn subaha ,aur pani pineke niymon ko ,swami ramdev ji ke anusar mana jay to,,aakho par ka chashma 3 mahinon ke aandar nikal jata hai.
this is completely scientific approach, with 100% guranteed result,please come forward and take advantage of our own home theorypy (that is pranayam and aayurved).
—————————————————————————
1. Polio Patient leg (which was thin) 1 and half or 2 inch leg in round, After doing pranayam for a year, the leg got muscle mass(leg is no more thin) got 4 inches in round by doing Pranayam.
So polio patients can gain muscle on their legs and arms by doing pranayam.
2. 1000 Patients results have been studied and Swami Ramdev has full documentation of Cancer patients, Brain Cancer patients , breast cancer, Prostate Cancer, Blood cancer.
T cancer cells gets under control by doing Pranayam, Corrosion which were breaking gets stopped after doing pranayam,
What Cancer patients did?
They had Wheat Grass Juice(Gehu Ka Jawara) in morning empty stomach for more details : divyayoga.com
Hindi Version
English Version
Foc Cancer Patients:
1. Drink weat grass juice in morning empty stomach.
2. Do Pranayam in morning before breakfast & in evening before 5 hours after the lunch :
Bahaya 10 Minutes, Kapalbhati 30 Minutes, Aunlom Vilom 30 to 40 minutes, Bhramari for 20 times & Udgeeth 20 times. Here are the videos:http://divyayoga.com/pranayam.htm
more videos in : click here
Wheat Grass Juice in morning empty stomach(Gehu ka jawara):
http://www.ipranayam.com/ghyungehugenhu-ka-jawarajawarey-ka-ras-ramdev/
What is Ghyun/Gehu/Genhu/ Ka Jawara/jawarey ka ras?
Wheatgrass……(popularly known as gehu ka jawara):
Go to your grocery store or any Ayurvedic Shop or organic shop to get it. Or grow in your home
WHEAT GRASS (popularly known as gehu ka jawara)
————————————————————————————————————————————
George Gray

I started yog and pranayam on 14th January 2007 to improve my immune system as I have suffered from tonsillitis twice over the past year, I also suffered from high blood pressure and lower back problems.
Since starting yog and pranayam I have had the folloging results with my blood pressure:
Start     BP 133 / 92
After 1 Week     BP 123 / 77
After 2 Weeks     BP 122 / 76
After 3 Weeks     BP 116 / 68
Currently     I have maintained a Normal BP level
I no longer have any back problems and although I was not looking to I have also lost weight. I feel the yoga has improved my health a great deal. I feel more energised and that yoga has encouraged me to adopt a healthier diet.
I really enjoyed the classes and will continue to practice this new life skill thanks to Mrs. Sunita Poddar my teacher. I took part in the workshopfor 3 weeks and now have the confidence to practice it on my own. I am eagerly looking forward to participating in Swami Ramdiv Ji's Glasgow workshop this summer. I currently practice yog and pranayam twice daily for approximately 20 minutes each time, morning and evening.
I have been telling everyone I know about it and would definitely recommend it!
Josephine

I enrolled with Mrs Sunita Poddar to learn yog and pranayam. The reson I joined the class is because I need to lose a lot of weight and when I saw the results on Mrs Poddar it was lost 4lbs in the first week and that was without sticking to a diet. I felt privileged that my employer was concerned about my health enough to start these classes with her workforce in mind.
The second week I felt motivated brighter more alert and happy it has gave me the incentive to start a healthier lifestyle and I can be less stressful within my working environment.
I have now begun to do the exercises and breathing when I am at home. I know that my blood pressure is getting lower and my breathing is improving again.
My opinion of the classes is they were very friendly and well set up, everyone was so relaxed, this was especially due to Mrs. Poddar's excellent teaching, explanations and patience with everyone. I would recommend this type of Yoga to anyone.
Louise Kelly

I completed the first week (7 days) of yoga sessions offered by Mrs Sunita Poddar in Glasgow in January 2007. My objectives for taking these classes were relaxatioin, increased flexibility and weight loss, as well as taking the opportunity to learn authentic yoga practices from a qualified teacher.
After only a few days of the classes, I found that my sleeping, which is often disturbed, had improved greatly and I was noticeably more relaxed at work, which is frequently stressful.
With each practice of the pranayam I found that my breathing was deeper and my lungs felt fuller, and each session left me feeling positive and optimistic. I found that practising the pranayam at home or at work was useful in remaining calm and relaxed.
I also noticed benefits from the aasans, with my flexibility in each exercies vastly improved by the fourth session. Doing the aasans left me feeling refresed and energised, expecially after the moring sessions.
Doing the yoga each day encouraged me to think more about having a healthier lifestyle and expecially to improve my diet. The combination of the yoga and the moves to a better diet helped me see some weight loss after the first week, which is encouraging for the future.
Overall I felt that the classes were very welcoming, enjoyable and well taught, and I would welcome the opportunity to take a refresher course later in the year. I was encouraged by some of the results enjoyed by other members of the group, expecially in weight loss and improved sleeping. It is also my intention to practice the pranayam and aasans at home as much as possible to continue to enjoy these benefits.
Maureen Aitken

I would like to say thank you to Mr. Sam Poddar and Mrs. Sunita Poddar for the opportunity to join their yoga classes. I am a 59 year old mother of three, a registered nurse and midwife and in full time employment. My job can be demanding and often leaves me stressed and tired. For many years I have suffered from obesity, chronic back pain, sciatica and stiff joints, expecially of my hands and fingers. I have also had breast cancer ten years ago and had a righ mastectomy.
In January 2007 Mrs. Poddar invited me to attend her yoga classes and it is a decision I am very happy I made. In the first two weeks I attended fourteen classes and could not believe the difference it made. I felt less stressful, had more energy, have been sleeping better and have lost weight. I have continued at the classes, attending threee to four times a week, as well as doing my daily yoga at home.
Mr. and Mrs. Poddar are excellent teachers and make the classes very enjoyable. They encourage us all the time and their motivation is first class. In my employment I have many patients with; type 2 diabetes mellitus, hypertension, obesity, rheumatoid arthritis, hypothyroidism etc. I know that yoga can help them and I encourage them to attend yoga classes. Already I have had positive feedback from my patients and this I have passed into Mr. and Mrs. Poddar. I will continue to do my yoga as I have had positive results from it. I will make it my goal to continue encouraging my patients to attend the classes.
I look forward to seeing Swami Ramdev Ji when he comes to Glasgow this July. I enjoy attending Mr. and Mrs. Poddar's classes very much and have found them beneficial to my health and well being.
Syd Duman

On Tuesday I'm off on holiday to the Caribbean with my better half. As usual, I'll need new swimwear for the beach; only this time, the size is down and not up. This will come as a surprise to my wife that I have reversed the trend.
You see, for the past seven weeks under the guidance of Sunita Poddar I have been practising Yoga. For myself and my new classmates the benefits we have received are of course echoed by each of us, for example for the first time I can remember I have lost weight and not put it straight back on agian. My sleep pattern has improved, and according to my wife snoring in the bedroom has stopped.
This has the added benefit of much lower blood pressure. In turn, my diet has also improved, as I now feel motivated to seek out healthier foods. This has been a lifestyle change; not bad for a man of 66 years still working fulltime in a nursing home. Notably I have no plans to retire and I am acutely aware that Yoga has been a major factor in this outlook.
Mrs. Sunita Poddar has faithfully took myself and 50 classmates or so through the paces. The enjoyment shared in each class has to be witnessed to be believed, and speaking on behalf of the class we recommend you join us. After all, I guarantee, you too will have the feel good factor in 7 days.
source: http://www.pypt.org/20-Your-Experiences.html
—————————————————————————————————————-
Results tested by Doctors:
In the summer of 2006, Swami Ramdevji Maharaj visited the UK and ran 4 Shivirs in Ilford, Bolton, Leicester and Harrow. It was during this visit that a simple medical analysis was undertaken at the Shivirs.
The results were quite remarkable. It was apparent that the philosophy and practice of Yog and Pranayaam needed good scientific validation of the positive outcomes, which hitherto comprised anecdotal experiences. Under the aegis of Swami Ramdevji and Acharya ji, the MAB was created in August 2006 to facilitate, co-ordinate and if necessary initiate, key research studies to show the impact of Yog and Pranayam in various disease states and in primary prevention.
It was agreed that initially 4 disorders were to be studied - these would be hypertension, diabetes, obesity and asthma/allergies representing major health problems in the UK. Studies were to be well constructed, peer-reviewed (through grants and ethic committee submissions) and using the best methodologies so as to result in good peer-reviewed publications in leading western journals.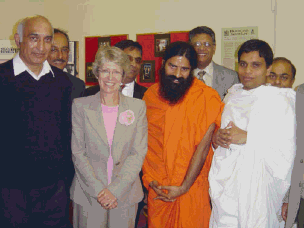 Swamiji and Acharyaji with the Rt. Hon. Patricia Hewitt and Prof. Gokal
Composition of the MAB
Members
Prof Raman Gokal MBChB MD FRCP FASN (Chairman)
Consultant Nephrologist and Prof of Medicine (retired)
University of Manchester UK
Prof Nilesh Samani BSc MD FRCP FACC FMedSci
BHF Professor of Cardiology and Head of Dept
Dept of Cardiovascular Sciences
University of Leicester UK
Dr Pratibha Datta MBBS MPH MSc FFPHM
Director of Public Health
Redbridge Primary Care Trust
Illford Essex UK
Shristee Damree SRN
Clinical nurse specialist in palliative and cancer care
Nurse manager
Marie Curie Palliative Care Unit, London UK
Dr Hemantha Kumar MBBS MBE
General Practitioner
Bharani Medical Centre
Slough UK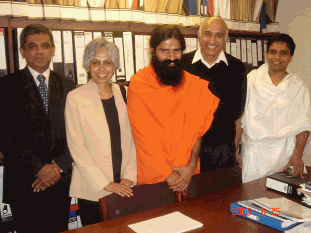 PYP UK Medical TELLery Board (Prof. Nilesh Samani, Dr. Pratibha Datta and Prof Gokal) with Swamiji and Acharyaji
The areas where MAB will be (or likely to be) involved are:
Facilitating research
Co-coordinating research (advisory capacity) in Hardwar, India and other parts of the world; linking when necessary to research projects in India
Dissemination of research and study data through publications, lectures, meetings
Through the above, promoting the virtues of Yog and Pranayam to health bodies, governments and other relevant bodies so as to make a positive contribution to the well-being of people and the NHS.
Drawing up and maintaining a bibliography of publications in the area of Yog and Pranayam
Medico-legal aspects of the teaching, practice and prescription of Yog and Pranayam within the NHS.
Various forms of data and research studies are needed.
Specific disease studies - longitudinal cohort
Community based studies (randomised, longitudinal)
Randomised Controlled Trials  -focused, well designed in specific disorders
Case studies by GPs
Basic science – cellular, physiological, genetic, biochemical
Studies in the planning phase
Diabetes.
There is already a study well into the preparatory phase (protocols, feasibility and funding) led by Dr Pratibha Datta. This will be conducted at the Redbridge PCT to assess the role of Yog and Pranayama in diabetic patients with poor diabetic control. Initially this will be a pilot feasibility study, moving on to a full randomised controlled trial. The study will run in conjunction with the University of London.
Obesity
The data from India and the 4 Shivirs in UK show a dramatic impact on this disease state. A RCT, in a hospital/academic setting would seem pertinent and desirable. Such a study is being planned in Glasgow with the Academic Dept at the Glasgow Royal Infirmary. This study is being spearheaded by Sunita Poddar (PYP UK Trust – Scotland) and is in the early stages. It is hoped that participants attending Swamiji's Glasgow Shivir in July this year will be asked to register their interest in participating in the study.
Results and Initiatives to date.
Meeting of MAB with Secretary of State for Health in Leicester August 2006 in the presence of Swami Ramdev. During this meeting the results of the studies at the Shivirs were presented and Patricia Hewitt was impressed but looked forward to seeing good evidence- based data to support the data from these preliminary studies.
Results of the study undertaken at the 4 UK Shivirs. In 2006, Swami Ramdev, a renowned proponent of this technique, visited England to conduct yoga and pranayama camps in four different locations: Ilford, Leicester, Bolton and Harrow. The camps between them attracted over 8000 participants, many from South Asian minority ethnic groups. Before and after data was collected after informed consent on a cohort of volunteers who had diabetes, hypertension, obesity and dyslipidaemia. They attended the camps for 7 days (3 hours daily) during which they practiced the various breathing techniques of pranayama, and undertook yoga postures. The assessments were made at the start and 6-7 days later. Patients with more than one of these disorders were asked to volunteer for the analysis at the start of the camp in each centre.
Initial assessments were done on 510 volunteers. Eighty-two did not return for follow-up, leaving 428 on whom both before and after data was collected. Analyses were done on these 428 (150 male; 278 female) volunteers with a mean age of 58 years (20-80), in whom paired data are available. Sixty-five percent (n=280) had diabetes mellitus, 81% (n=349) had hypertension, 65% (n=280) had hyperlipidaemia and 41% (n=177) were obese (BMI >25kg/m2). The conditions were self reported to researchers by the patients themselves. Twenty-one percent of the subjects had all four conditions. Each volunteer had the following measurements done: weight, height, blood pressure, blood sugar and cholesterol (finger prick using the Accu-Chek system). The results are shown in the table.
| | | | |
| --- | --- | --- | --- |
| | Before (mean+/-SD) | After (mean+/-SD) | P value |
| Weight (Kg) | 72.8 +/- 15.4 | 72 +/- 15.2 | <0.001 |
| BMI (Kg/m2) | 28.92 +/- 5.4 | 28.56 +/- 5.5 | <0.001 |
| Blood pressure systolic (mmHg) | 158 +/- 24 | 150 +/- 22 | <0.001 |
| Diastolic (mmHg) | 92 +/- 12 | 87 +/- 12 | <0.001 |
| Blood sugar (mmol/l) | 7.0 +/- 2.6 | 6.7 +/- 2.5 | <0.001 |
| Blood cholesterol (mmol/l) | 5.08 +/- 0.94 | 4.77 +/- 0.91 | <0.001 |
The effect on BMI appeared most pronounced among the severely obese patients (BMI >40Kg/m2), in whom the mean BMI dropped by 0.58kg (p=0.004, n=18) and the obese patients (BMI 30-39.9) in whom mean BMI dropped by 0.62kg (p=0.012, n=135). Conversely, among the underweight patients (BMI <21) there was no statistically significant decrease in BMI or weight. Overall, 56% of subjects lost weight and 36% had no appreciable difference in weight after the yoga camp. In 38% of the hypertensive patients a normal blood pressure was recorded after 6-7 days of the yoga camp. In total, random blood glucose decreased in 62% of the patients. Sixty-six percent of patients had decreased cholesterol after the study period.
Although these results are promising in terms of the effect of yoga on disease markers, they are not conclusive. We recognise that the study has several drawbacks and shortcomings and were not controlled. However, the study looked at a group of self selected people for a relatively short duration, over which time the mean values for the four parameters seemed to change favourably with yoga. A much larger randomised controlled trial over a much longer period is needed to confirm the positive effects found here and this is planned.
This study has been submitted for publication to a leading UK Medical Journal as a letter to the editor.
Future Projects and Plans
It is very much in the interest of the movement and the philosophy that we are able to substantiate the impact of Yog and Pranayam in various disease states through well conducted scientific studies. This remains the MAB's primary objective. It is also facilitating longitudinal observational data (>6 months) through the regular Yoga classes being run across the country (simple measurements of weight, height, hip/waist ratio, BP). Additional studies will be planned in 2008 in other relevant areas pending the outcome and progress of the current ones.
MAB will also be collaborating with other centres in India and US in studies in other areas (genetics, cancer, hypertension, respiratory disease, psychiatry).
Source: http://pypt.org/23-Medical-TELLery-Board.html
Swami Ramdev at M. D. Anderson cancer centre in Texas university, USA
Can u believe that lecture will be listened in Hindi by Professor/doctors of Texas University. Swami Ramdevji gave lecture in Hindi on effect of Pranayam, Yog & Asan to cure of diseases.

Incoming search terms:
baba ramdev yoga reviews
ramdev yoga for lungs
baba ramdev testimonials
baba ramdev reviews
Recently testimonial of baba ramdev
ramdev yoga reviews
baba ramdev pranayam reviews
baba ramdev medicine reviews
baba ramdev weight loss medicine reviews
pranayama for psoriasis